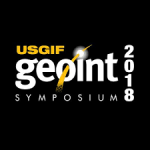 Simtable exhibits at the 2018 GEOINT Symposium in Tampa, Florida, April 22-25.
Hosted and produced by the United States Geospatial Intelligence Foundation (USGIF), a non-profit, non-lobbying educational organization, the annual GEOINT Symposium is the nation's largest gathering of industry, academia, and government to include Defense, Intelligence and Homeland Security Communities as well as commercial, Fed/Civil, State and Local geospatial intelligence stakeholders.
The event annually attracts more than 4,000 attendees from all over the world, features more than 250 exhibiting organizations, and offers more than 50 hours of training sessions for attendees.