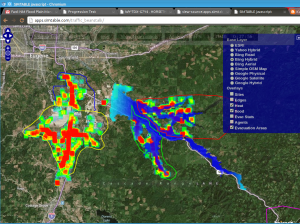 Flooding and Storms
Simtable's Water Module enables users to visualize rain storms, watersheds, and flooding from dam breaches, hurricane inundations and other surge models. Wildland fire burn scars can be visualized along side these water models to understand the impacts of erosion and silting on hydrophobic soils. Water can be generated as a point source or as a uniform rainstorm with configurable depths per hour. This interactive module also allows users to place significant precipitation events across the landscape and visualize the resulting flash flooding.

Simtable's Water Module includes:
Agent-based Water Modeling
Precipitation Visualization Tool
Watershed Mapping Tool
Point Release Dynamic Inundation Mapping
Our dynamic flood inundation mapping runs flood simulations triggered interactively by users and can be tied into your existing monitoring systems. Real-time stream and time gauges can be added for situational awareness during incident command or planning. Local inundation maps sourced from your regional hydrologist or GIS specialist can also be added to your table and be used for flood risk analysis, environmental and ecological assessments and damage recovery aid.
"Simtable is unique in that it combines digital, computerized operations with a sand table. The Simtable is also very collaborative. The decision of all participants can be integrated, and each can have an effect on the others. Simtable is ideal for training on strategies and tactics, and it's also great for practicing the IMS."
– Erik Litzenberg, assistant chief of operations for the Santa Fe, NM Fire Department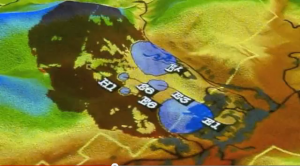 Simtable also includes a Hazmat Module for modeling contaminant plumes that are reactive to terrain and wind conditions. Chemical plume modeling can be used as an assessment tool for parameter estimation, dispersion, resource allocation and for minimizing the spread of contamination of hazardous agents to other locations and persons on the scene of a hazardous materials event.
The Hazmat Module includes:
Agent-based Chemical Plume Modeling
Strategic and Tactical Resource Allocation
Dynamic Wind & Behavior Inputs
We offer a variety of chemicals to model in the Hazmat Module, if your particular substance of interest is not included it can be added to the suite.
For more detailed information fill out our Contact Form or email us at info@simtable.com