Wildland Fire
Simtable's interactive wildfire modeling brings sand table exercises to life in your own high risk areas. Create training modules, conduct mitigation and fuels planning, and engage your community with simulated wildfire using local data and terrain. Advanced computer simulations of fire progressions using wind speed and direction, terrain, slope and fuels provide a truly interactive experience.
Simtable's simulation platforms enable professionals to easily operate in the planning, training, and outreach and provide the tools needed to communicate to their trainees, stakeholders and communities. Scenarios are dynamically created utilizing your existing data alongside publicly accessible GIS data allowing instant, real-time changes of maps and topography.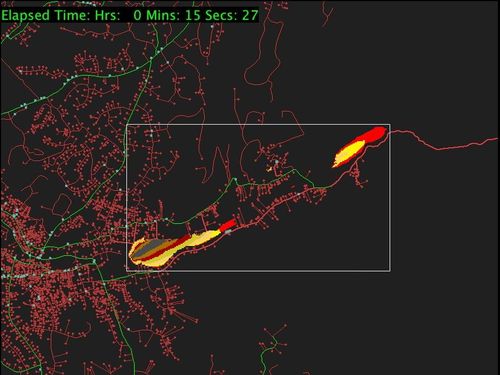 Simtable publishes animated Fire Progression maps for both Active Fires and Historical Fires. These animated progressions can be added to your Simtable for playback and used as After Action Review resources or historical points of reference.
"Simtable is the future of wildland training and public outreach."

– Steve Mullis, Lieutenant/Wildland Coordinator

"User friendly and what a great training tool! You can truly see the value. The multi-user cloud-based features allow a truly distributed command."

– Scott Ridings, Assistant Chief of Wescott Fire Protection District, Colorado Springs, CO

"With Simtable we can start a fire and we can simulate the response to a fire, how we would mitigate it. We have many different options, whether we cut hand lines or dozer lines, we can simulate water drops, a lot of different options, we can use Simtable as a training aid to show how we would control a wildland fire."

– Manny L'Esperance, Los Alamos National Laboratories (LANL) Fire Management Officer
---
For more detailed information fill out our Contact Form or email us at info@simtable.com