Simtable has partnered with customers to secure grants from local and federal sources to help offset the cost of a Simtable installation. Previous grants have come from the following sources:
Fire Prevention and Safety Grants (FP&S)
The Fire Prevention and Safety Grants (FP&S) are part of the Assistance to Firefighters Grants (AFG), and are administered by the Federal Emergency Management Agency (FEMA). FP&S Grants support projects that enhance the safety of the public and firefighters from fire and related hazards.
Eligibility includes fire departments, national, regional, state, and local organizations, Native American tribal organizations, and/or community organizations recognized for their experience and expertise in fire prevention and safety programs and activities.
Pre-Disaster Mitigation Grant Program
The Federal Emergency Management Agency (FEMA) and the U.S. Fire Administration (USFA), administers Pre-Disaster Mitigation Planning and Project Grants. This grant program (PDM) provides funds and technical assistance to state entities, tribes and local governments to aid in developing multi-hazard mitigation plans and to administer projects identified in those plans.
Hazard Mitigation Grant Program
The Hazard Mitigation Grant Program (HMGP) provides grants to States and local governments to implement long-term hazard mitigation measures after a major disaster declaration. The purpose of the HMGP is to reduce the loss of life and property due to natural disasters and to enable mitigation measures to be implemented during the immediate recovery from a disaster. To contact your State Hazard Mitigation Officer (SHMO) for information on eligibility, please check FEMA's site here.
Title III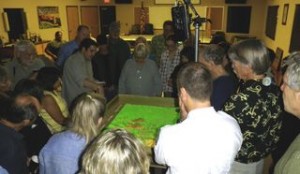 SimTable is the first choice for implementing your Title III objectives. It is the cornerstone of an effective Firewise Communities program and indispensable for developing a community wildfire protection plan. Counties across the country are utilizing Title III funds to create outstanding public outreach and education programs around the SimTable. Please visit the USDA website for information on Title III County Funds.
Funds are authorized for 6 primary uses under Firewise Communities Program:
Search, rescue, and emergency services
Community service work camps
Easement purchases
Forest related educational opportunities
Fire prevention and county planning
Community forestry
 SimTables are currently in use throughout the country for FIREWISE and outreach efforts.
"I've never seen a group so engaged at a FireWise presentation,"
- Dave Sperling, Santa Fe County Deputy Fire Chief.